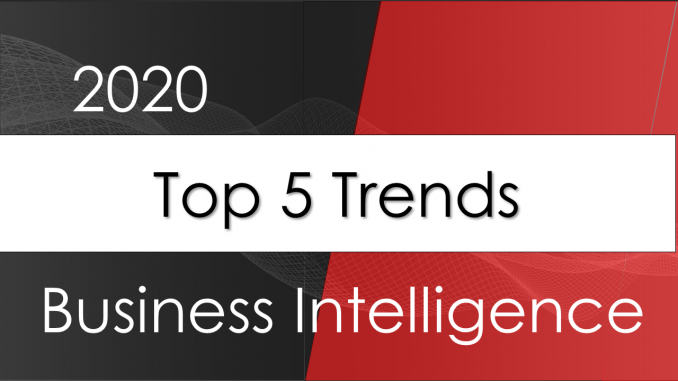 Business Intelligence industry has seen waves of transformation in the last ten years. The industry have come a long way thanks to the progress in hardware, software and skills/ awareness that people have with data and insights. The Gartner's magic quadrant of business intelligence industry has changed drastically indicating a shift and new competition all driven by customer needs for right insights at the right time. 2020 will be of significance mainly because of the role that AI/ ML will play in the Business Intelligence space and the rise of new leader Thoughtspot. Here are my top five business intelligence trends for 2020. These are the features that are either present in the products in its nascent stage or being used by early adopters.
AutoML Automated Machine Learning
Conversational Analytics
Augmented Analytics
Keep Data at Source
Insights as Content: Subscription and Sharing
In 2020, in my opinion, these features will mature and be used by Early Majority than others.

Conversational Analytics
Gartner predicts that about 50% of total analytical queries will be made by search and natural language. Qlik's Insight Bot, Thoughtspot's search and Tableau's Ask Data shows that industry leaders have been trying to establish this as core feature of their product. The main advantage of this feature is that it reduces the barrier to democratize analytics (self-service) as the end user will no longer be required to build dashboard using complex expression. There will be a continuous focus on making this capability lot more sophisticated in 2020 by the business intelligence vendors.
Augmented Analytics
According to Gartner,
Augmented analytics is the use of enabling technologies such as machine learning and AI to assist with data preparation, insight generation and insight explanation to augment how people explore and analyze data in analytics and BI platforms.
Thoughtspots' Spot IQ and Qlik's Insight Advisor are good example of augmented analytics in the business intelligence space. Also Power BI has the Analyze Data feature that finds out the hidden insights in the data for the user. All these are an attempt to reduce the cognitive burden of the users to derive insights out of the data or metrics. While these features are in nascent stage in the respective products, 2020 will see a significant advancement by the vendors.
AutoML (Automated Machine Learning)
Automated machine learning incorporates machine learning best practices from top-ranked data scientists to make data science more accessible across the organization.

Source: Data Robot Webpage
The rise of companies like Data Robot gives the data community a chance to democratize machine learning and other advanced analytics. The partnership of Data Robot with Qlik and Thoughtspot indicates that the capability exists with all leading business intelligence vendors. Prior to this feature, Qlik, PowerBI and Thoughtspot too had the ability to include R-Scripts. But it still required users to know about R or other machine learning scripts or have access to it. This was a barrier for many of the citizen data scientists and other analysts. As AutoML platforms gain traction, we will see business intelligence platforms leverage them in 2020.
Keep Data at Source
Most of the modern leading Business Intelligence platforms (except Sisense) gained popularity for speed thanks to their in-memory capabilities. This may have worked in the past decade. However, with the rise of Internet of Things (IoT) its impossible to load all data in memory. Thoughspot in their Beyond 2019 conference introduced calls to snowflake, Qlik has the Associative Big Data Index, Tableau supports Liver Direct Connections and Power BI has got Direct Query that enables them to query data from source rather than loading them in memory. In 2020, business intelligence platforms will query more data from cloud and Big data infrastructure directly.
Insights as content: Subscription and Sharing
As an effort to democratize analytics and improve trust on the insights and data, there will be a rise in the ability to create, share and subscribe to insights similar to other content creation platforms. Thoughtspot's Beyond 2019 introduced the capability to create your own feed of insights, ability to follow a specific content creators. Power BI's new activity tab on mobile to enable users access what is important for them effortlessly. I hope that other leaders and niche players will also follow the wave. This will help the end user community to validate and reuse insights generated by one user thus accelerating the data-driven culture.